Whether you're relocating your home or expanding your business to East Malaysia, oversized parcels can be a huge pain. Shipping oversized goods certainly aren't easy, and they certainly don't come cheap. What constitutes as an oversized parcel? What happens if your shipment gets lost or damaged? Or as a business owner, how can you cut costs by finding the right logistics company without compromising quality?
To answer your questions, here's a breakdown of what you should look out for plus some tips and tricks to make your shipping experience more enjoyable and simpler.
1. Calculating parcel weight and cost of shipping
Depending on your item, your parcel can either be considered as a large or oversized parcel or a cargo-sized parcel that requires customised logistic services. The amount of logistics planning needed to ship items such as sofas, washing machines or televisions is vastly different from shipping items like marble tables, commercial chest freezers or vending machines.
Different couriers in Malaysia have different dimensions and weight limits for oversized shipments too. Some of them might even have additional requirements depending on the services chosen, such as the Express Delivery Service. At Arkod, we deem anything between 40kg – 90kg as an oversized parcel, with maximum dimensions being 100(L) x 150(H) x 160(W) cm or 160(L) x 80(H) x 80(W) cm. We would recommend anything exceeding these measurements to opt for our customized logistic service, where we will instead provide a customized solution for your item.
Now here's the big question, how do we calculate the weight of your parcel and how does it affect your cost of shipping? And no, we don't just place your object on a large weighing scale.
Most courier services calculate the shipping rate based on something called the volumetric weight, also known as dimensional weight. The dimensional weight is an estimated figure calculated from the length, width and height of your parcel. This is an international index used to calculate the shipping fee based on your parcel's dimensional weight or the actual weight of your item, whichever is greater. Calculate your item's dimensional weight with our volumetric calculator to find an estimate of your shipping cost.
2. Coordinating packaging and delivery of your item
We all know that packaging and delivery of oversized items definitely requires a lot of manpower and the right use of packaging materials. Besides that, you should also note that your packaging will be included in the aforementioned dimensional weight, thus influencing your final shipping cost. A smart and sturdy packaging is key to not just save cost, but also make sure your parcel arrives safely.
Choose a sturdy box that is strong enough to hold and protect your items while it's being shipped. Make sure your item is snug and secure by filling in any gaps with cardboards or foam boards, as these materials are much more durable and reinforces the rigidity of the box compared to packaging peanuts or air pillows (usually used for standard-sized items). The lesser space your item has to move about the box, the better. If your item is particularly valuable, you might even want to consider having it shrink-wrapped to avoid the woes of uncontrollable weather.
Now, when it comes to delivery of especially large items, you are advised to coordinate with your courier to accurately schedule your item for pick up and then delivery as it may require specialized vehicles and drivers. This is also especially critical when your parcel requires a longer loading time, larger vehicles and a larger transit time. Failed delivery attempts will be a huge hassle for everyone involved, so better to plan ahead to avoid any frenzy afterwards.
3. Special care shipments and purchasing shipping insurance
Shipping fragile goods that are particularly delicate or difficult to replace requires much expertise, even more so when they're oversized. In addition to formidable packaging, these shipments would also require trained workers and technicians to be on stand-by to handle these packages with additional care and attention to detail.
Depending on the item itself, Arkod provides customised solutions to ensure that these special deliveries are handled much more carefully and reaches your doorsteps safe and sound. As these shipments are often difficult to replace or are of high value, visibility into the item's location and shipping status throughout the entire process will be well communicated for the best customer experience.
Now, not every parcel requires shipping insurance. However, there will definitely be a point during the shipment of your package that would be out of the courier company's control. Securing shipping insurance over any high-value items would thus ensure that your parcels will be well-accounted for if issues like rough weather, lost or damaged of parcel or any other unexpected liabilities should arise. At Arkod, our shipping insurance is an added on service for door to door shipping orders, so be rest assured that your item shall be in good hands throughout the entire process. To find out more about our customized shipping insurance policy, click here.
Phew! Having read this far, shipping oversized parcels certainly seems like… a lot of work. You're probably thinking, who has the time for all this? Well, that's exactly where we come in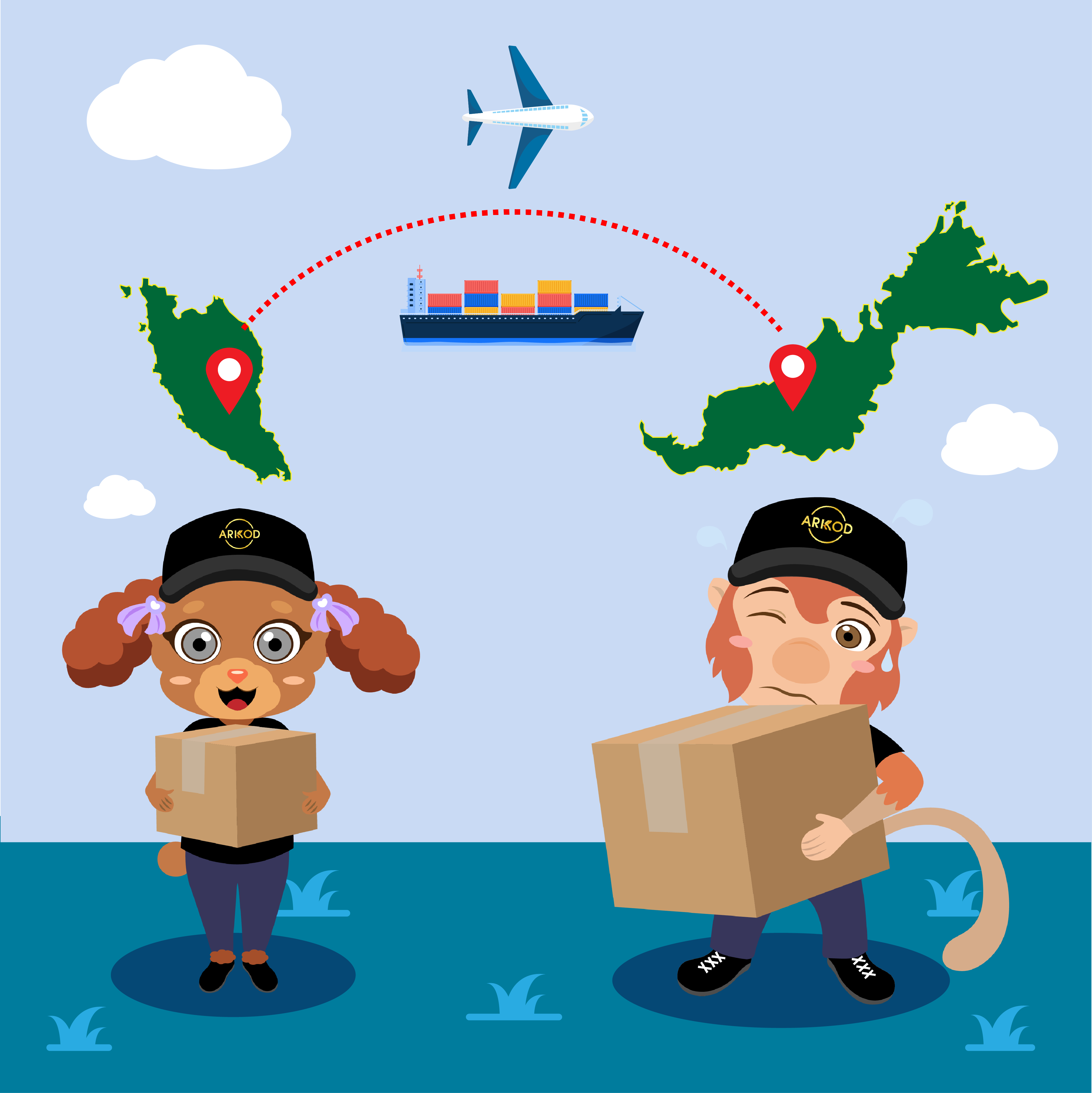 Arkod offers inexpensive and quality guaranteed logistics services for all kinds of deliveries, no matter the size, no matter the destination. The best part? We provide a digital booking platform with the goal of solving logistic issues between the urban and rural areas of Peninsula Malaysia and East Malaysia.
With more than 15 years in the logistics industry, our leaders aim to use their expertise to digitalize the delivery process of your shipments from the traditional and manual method, allowing you to save time and effort from the comfort of your home. Our services include providing a good and reliable logistic agency to get the job done, from packaging, pickup to delivery of your parcels, with convenience and efficiency being our top priorities. The Arkod digital booking platform offers a fast-track option to anyone sick of physically visiting courier offices or dealing with unresponsive online customer service.
Our platform does everything from calculating shipping costs, purchasing shipping insurance to booking any extra services required for your items. All you have to do is register an account with us at our website or mobile app and you'll be set.
Shipping oversized parcels can be complicated, but it certainly doesn't have to be stressful. Now that you know how to ship an oversized parcel, make the right choice of choosing a logistics company you trust for the job. For more information, visit our website & FAQs today.