Take advantage of our limited-time promotional offer and experience the convenience of having your car delivered right to your desired location. Get in touch with us today to book your car delivery and start your journey hassle-free!
Why Choose Arkod's Car Delivery:
🚗 Convenient Transfer: We'll handle the logistics, so you can focus on your journey.
🛡️ Safe and Secure: Your car will be in safe hands, ensuring a worry-free delivery.
🕒 Time-Saving: Say goodbye to lengthy trips – we'll bring your car to your doorstep.
💰 Great Pricing: Enjoy competitive rates for car transfers between KL, KK, and Kuching.
🚙 Car Variety: Whether it's a private or commercial vehicle (1000 c.c – 3000 c.c above), we've got you covered.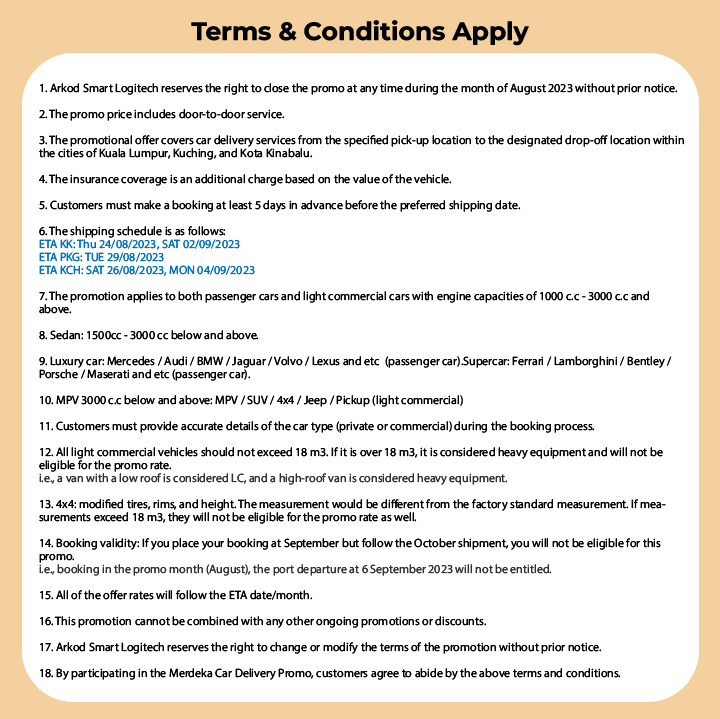 Don't miss out on this opportunity to simplify your car transfer experience with Arkod Smart Logitech. Your journey, our commitment!"
Check our Merdeka 2023 Promo Here
Email us (sales@arkod.com.my)